Automatic Self-Cleaning Screen Filters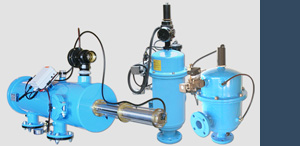 Automatic self-cleaning screen filters are an economic and very effective solution for filtration of insoluble substances from water. They feature a low consumption of electrical energy and water, necessary for automatic cleaning of filtration screens.
The filters need a very small space for their installation and their assembly, operation and maintenance are very easy. And yet, they are capable of filtering, without any operator's interventions, large quantities of water contaminated with mechanical substances [up to TSS 400], and by doing so they not only save the downstream filtration systems [sand filters, softening equipment, reverse osmosis systems, sleeve filters …], but also all other equipment and machines for which the water filtered is intended [irrigation systems, snowing systems, heat exchangers, cooling circuits, boilers, machine tools …].
Automatic screen self-cleaning filters can be used in all applications featuring a large water consumption and where this water can be used recurrently [cooling, coal spraying, dust reduction systems, water filtration during the cooling of steelwork products, washing and cleaning of vehicles, recycling of industrial waste water, filtration of water used for rinsing of bottles, vegetables, fruit …].
The filters make a continual water filtration possible, with regard to their technical design. A part of the delivery of all types of automatic filters is an automatic control unit. The flushing of filters takes place either on the basis of a pressure drop or on the basis of the preset time.
Automatic self-cleaning screen filters are driven by a hydraulic motor [AF-200 / AF-800 series] or an electrical motor [AF-200E / AF-900 / AF-9800 / AF-7500/700 series].
Automatic hydraulic self-cleaning screen filters are a cheaper alternative to filters equipped with an electrical motor. With regard to the fact that they use raw water for their automatic flushing system, it is necessary to start up a hydraulic motor which drives the piston and to ensure a minimum pressure of 2.5 bar in the filtration system.
Automatic electrical self-cleaning screen filters are a top-quality solution for industrial applications. They are absolutely precise, maintenance-free and they feature a low noisiness. They are also characterised by a lower consumption of washing water and by a shorter washing cycle.
MEGA filters are created with one filtration body in which two and more filtration units are installed. They are used in the cases when it is necessary to filter a very high volume of water [more than 1000m³/h] and the spatial capacity does not make it possible to carry out a parallel installation of more individual filters.
On a standard basis, the filters are made with an epoxy coating and screens in the PVC / stainless steel combination. In the case of the use of filters for aggressive water, hot water or in the food processing industry it is possible to make filters from stainless steel "304L/316L" or from titanium.
We manufacture filters also for high-pressure zones [16, 25, 40 bar], high temperature zones [95°C], frost resistant, with non-standard voltages or with alternative energy sources [solar panel].
The basic colour design is in the RAL 5012 [light blue] colour shade, upon request it is possible to deliver filters in any colour of the RAL system.
If you require removal of any mechanical impurities from water, please contact us and we will draw up, free of charge, a proposal for the most suitable solution for you, on the basis of a raw water analysis, required filtration capacity [m³/hr] and required quality of output water.

High Quality Water No Matter Where It Comes From