Pressure filters with filtration mediums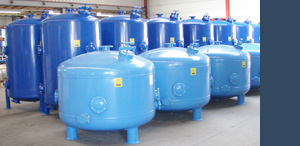 Filtration with pressure filters featuring various filtration mediums is applied in a wide range of applications during the processes of drinking water treatment, chemical disinfection and during the pH and EC regulation.
Filtration taking place through the filtration bed of pressure filters [known as fine filtration] removes especially turbidity, colloid substances, undesirable colour or odour, microbiological contamination, ammonia ions, iron, manganese from water and it reduces water acidity as well …
For the purpose of a proper removal of these substances from water and to obtain the requested quality of output water it is necessary to propose a suitable filtration process. The actual filtration through pressure filters is complemented with aeration, clarification, coagulation, static mixers, disinfection… The kind of the filtration medium used is very important as well.
Technology components

Dosing panels

Static mixers

Pump

Control unit
Most frequently used filtration fillings:
Fine gravel: 1-20mm
Silica sand of various roughness: 0.4-2.5mm
Active charcoal: is used for absorption of chlorine and other mineral substances
Anthracite: is used in two-layer or multi-layer filtration of drinking water in connection with sand - the addition of anthracite guarantees a longer filter lifetime, it facilitates a larger filtration through-flow and reduces sand contamination
Catalytic mediums [YAMLOX®]: are used to remove iron and manganese from drinking water
Semi-burnt Dolomite limestone: is used to reduce water acidity
| | | | |
| --- | --- | --- | --- |
| | | | |
| Silica sand | Fine gravel | Active charcoal | Dolomite limestone |
The filtration bed can be formed by one layer or more layers of various filtration materials. Filtration sand lifetime during a proper washing of filters oscillates around 8 years on a standard basis.
Legend:

Upper Service Hole
Filter Inlet
Anthracite Layer
Fine Sand Layer
Coarse Sand Layer
Filter Outlet
Gravel Support Layer
Filter Element
Side Service Hole
Filters are controlled manually [with ball valves / shut-off valves] or automatically. In the case of an automatic filter control process, membrane or hydraulic or pneumatic valves are used.

The entire automatic process of filtration and back washing of filters is controlled by a central control unit. The control unit makes it possible to set filter washing on the basis of time, pressure difference or filtered water quantity.
Filters are washed, on a standard basis with raw water or with treated water from reservoirs.
Filters are fitted with a filtration inter-bottom with jets. The jets are made of the ABS material and make it possible to wash with water or both water and air. In the case of the filling height not exceeding 1500 mm, the water flushing process is fully sufficient.
Pressure filters are made of carbon steel with a protective anticorrosion coating with epoxy resin in the RAL 5010 [gentian blue] or 5012 [light blue] colour shade. The coating meets the conditions of hygienic harmlessness for contacts with drinking water.
Special Options and Features:
Design materials: stainless steel 304L or 316L
Special coating and jets resistant to high temperatures [+95°C]
Colour design according to colour shades of the RAL system
Although the filters are manufactured in a top technical and technological quality, their installation, operation and maintenance are very easy. They are intended for a continuous operation and are non-demanding in terms of both rinsing water consumption and consumption of energy.
If you require production or treatment of drinking water, removal of any organic or soluble substances from water, please contact us and we will draw up, free of charge, a proposal for the most suitable solution for you, on the basis of a raw water analysis, required filtration capacity [m³/hr] and required quality of output water.

High Quality Water No Matter Where It Comes From