Semi-Automatic & Manual Screen Filters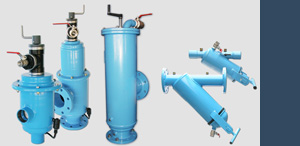 Semi-automatic and manual screen filters are a standard solution for filtration of insoluble substances from water.
The filters are installed most often in an in-line manner in the pipelines and their assembly, operation and maintenance are very easy. They can be used where a regular servicing of the filtration equipment is possible and where a relatively small water through-flow is filtered. The installation of these filters protects not only the subsequent filtration equipment [sand filters, softening equipment, reverse osmosis systems, sleeve filters …], but also all other equipment and machines for which the filtered water is intended [irrigation systems, snowing systems, heat exchangers, cooling circuits, boilers, machine tools …].
Filter flushing / Screen cleaning is carried out on the basis of a pressure drop in the pipeline upstream and downstream of the filter.
Semi-automatic screen filters [SA-500 / SA-500C series] are a cheaper alternative to automatic hydraulic filters. The flushing of the screen in this case does not take place in an automatic way [the collector of impurities is not turned by a hydraulic motor, but to rotate the collector it is necessary to turn the handle which is installed on the filter body]. The flushing of the screen is very short and consumption of the flushing water is rather low. The filtration process is not interrupted during the flushing process. Contaminated water from the flushing process is discharged into the waste system. They are suitable for the use in the cases when water is more contaminated and when it would be necessary to often dismantle the manual filter and to clean its screen.
Manual filters [F-100 /F-300/ F-400 series] operate on the free water stream principle. Mechanical impurities settle on the filtration screen / screens and in the case of contamination it is necessary to dismantle and to properly clean the screen / screens. The design of the filters facilitates a very fast and simple dismantling of the screen with the help of a simple tightening mechanism. The necessity of a complex loosening of screws is fully eliminated.
On a standard basis, the filters are made with an epoxy coating and screens in the PVC / stainless steel combination. In the case of the use of filters for aggressive water, hot water or in the food processing industry it is possible to make filters from stainless steel "304L/316L" or from titanium.
If you require removal of any mechanical impurities from water, please contact us and we will draw up, free of charge, a proposal for the most suitable solution for you, on the basis of a raw water analysis, required filtration capacity [m³/hr] and required quality of output water.
High Quality Water No Matter Where It Comes From